The Best Elopement Dresses: How To Find The Perfect Dress For Your Elopement
Now that you have decided to say "I do" with just your partner, have you decided what you'll wear? Just because you have chosen to do an intimate wedding doesn't mean you need to sacrifice feeling your best, and more specifically, like a bride. Whether you will be exchanging your vows while on a hike, on the beach, or just exploring a new city, this guide will help you find the perfect elopement dress for you.
What do you wear to an elopement?
Dressing up for an elopement often means balancing function and formality. For instance, adventure elopements are generally considered important events (no matter how fun and relaxing they tend to be), and people like dressing formally for important events. However, suits and dresses aren't really meant for the great outdoors.
As a rule of thumb, the right attire for your elopement is one that lets you move in it easily and one that you're okay with getting a little dirty from your elopement adventure. Dressing incorrectly will only make you uncomfortable and limit what you can do during your session. In the worst of cases, the wrong attire could be dangerous in rough conditions.
Do you wear a wedding dress if you elope?
This will depend on you and your elopement. Some couples want to dress at the peak of their hike, close to where they will be doing their ceremony, while others want to do their hike in their attire and get dressed up either at the trailhead, their van, Airbnb, or campsite.
If you're planning on changing on location, your best bet is to bring a wedding dress bag and carefully fold your dress in the pack.
Where can I find inexpensive elopement dresses?
You don't need to break the bank for your elopement wedding dress. Typically, wedding dresses can be expensive, and you also need to account for bridal accessories along with alterations.
However, since you decided to elope, you probably also want to save some money while enjoying an epic adventure. Your elopement dress doesn't need to be overly expensive. You can actually wear what you want on your wedding day.
The brands I feature here are actually some of the more affordable options, and I'm pretty sure you'll love them. As you will find out, there are lots of places to find the perfect dress for your elopement.
Can you rent elopement dresses?
Usually, elopements are booked much less in advance compared to traditional weddings. This tends to make it difficult to shop for a designer wedding dress from local bridal salons.
Fortunately, you can shop from online trusted stores or rent your dress. On the same note, buying a used dress isn't such a bad idea either from online resale stores or sale apps. Of course, you can always do some alterations as needed.
How do you choose the perfect elopement dress?
Just as with conventional wedding dresses, you want your elopement dress to showcase you. The dress should ideally scream your personality, and make you feel stunning in it. Just because your elopement adventure may involve doing what you love, doesn't mean compromising on the look.
Here are some of the things to consider when choosing dresses to elope in:
Fabric
Light and airy fabrics are great for the adventurous couples who don't shy away from doing something different like hiking or snowboarding. No matter where you're shopping, consider the tulle, chiffon, and organza, along with some traditional lightweight fabrics.
Weather
Don't forget to consider the weather. How you should prep will depend on the weather conditions. For instance, in cold weather, you can wear tights under your dress to help keep warm or use a blanket between the photos and events to help. Be sure to consider what the weather might be while shopping so that you're comfortable on the day.
Duration of the elopement
Some couples will say hell with the elements and choose to wear what they want and then brave it for the photos. This is totally fine. However, don't forget that you will probably be braving the cold in front of properly dressed, super cosy, dry, and comfortable folks while you do it.
What's the difference between an elopement dress vs. a wedding dress?
One of the key differentiators is the fact that elopement wedding dresses are usually much easier to move in compared to the traditional wedding dresses. You'll ideally be looking for dresses that aren't tight-fitting below your hips to let you explore your surroundings freely. Moreover, unlike wedding dresses, elopement dresses are often chosen based on the location and weather conditions.
The traditional structure of a wedding dress makes them rather stiff, usually from the boning and corset in the skirt or bodice structure, which makes it difficult to pack the dress for destination elopements. For your elopement, you can choose something that's light and easy to pack.
Lastly, when it comes to elopement dresses, you want something that doesn't require four sets of hands to get into. Many couples like to change to their wedding attire after backpacking or hiking into their elopement destination, and you obviously want to be able to get into the dress by yourself.
Should I pick an elopement dress based upon the destination?
While looking through different elopement inspiration, you might have noticed that with most of the pictures and videos, elopement wedding dresses look so good at the location. Well, that usually doesn't happen by accident. The couple likely spent their time choosing attire that would go well with the elopement destination. The result is that the clothing looks like it was specifically made to be photographed specifically on the beach, mountain… you get the idea.
How do you make sure your elopement dress looks perfect in your destination? Well, one of the key things to do is to choose movement, not only with the ability to move well in the dress, but also the ability of the dress to move around you. Go with something that features lightweight pieces and/or a flowy skirt that can play well with the wind; beads, tassels, or sequins that catch the light from your surroundings; and loose sleeves that drape across the shoulders of your partner as you hug them.
Besides looking good outside, you want to feel amazing. Generally speaking, you will have a much better day when you are not fighting with your attire to stay cosy. So, you'll want to choose your elopement dress based on the destination and the season.
How does the season play into it?
Summer elopement dress
In the hot seasons, lightweight dresses are an ideal solution to the summer heat. Cotton or silk will do much better when it comes to wicking moisture and keeping you cooler than synthetic materials. However, you should ultimately choose a material depending on what feels good against your skin. If you want to be active in your dress, avoid styles with high necks and sleeves as those can feel really restricting in the sun.
Elopement dresses for fall
Elopements in autumn are always memorable for their warm days and the soft evening breezes. That's why fall is often considered the traditional wedding season. The weather tends to be nice and welcoming, which gives you a variety of styles to choose from when picking a dress. If you're eloping in the desert or on the beach, lightweight elopement wedding dresses would be ideal. If you're eloping in the mountains or the wild, you can get away comfortable with a warmer dress.
Winter elopement dress
When eloping in winter, your dress has to be made from warmer materials, work well when layering, and look adorable with the addition of a jacket. In general, not all winter season elopements will mean dealing with snow; you should also be ready for those icy breezes in the mornings and evenings. One of the go-to solutions for winter elopements is a pair of nude leggings. These fit well under all dresses and will not be visible in photos. Keep in mind that leggings come in dozens of shades to match your skin tone.
Spring elopement dress
Spring elopement dresses will serve you best if they can comfortably hide a few layers throughout the day. It could get cold in both the morning or evening, so it's wise to be prepared for this with leggings, a jacket, and body warmers as needed. However, the day could get pretty warm, so avoid super heavy dresses. A lightweight dress that you can layer will be more versatile than heavy dresses made from warmer materials.
What sort of fashion and colours works with an elopement dress?
When it comes to elopement dresses, there's really no wrong or right answer to which dress would be perfect for your destination. However, there are a few things you should generally look out for. Given that there are so many possible landscapes, it's nearly impossible to list them all. The perfect dress for your elopement is the one you love the most and one that makes you feel the most comfortable.
Here are a few tips to help you choose a great dress that complements the texture and colours of your landscape.
Go for colours that contrast the landscape – for example at a beach, a black elopement dress will stand out more, whereas in the darker mountains, a white dress will pop a bit more.
Choose a smooth material for textured environments
Dresses that move with the wind always look amazing
Don't shy away from being bold
For simple environments, choose textured materials
Some of the most outstanding images for elopement inspiration dresses feature situations where the attire breaks the rules of traditional weddings. For instance, black dresses against a red desert or even pops of colour other than plain white work well. Another good idea is to let nature take part in your styling. If your hair gets caught in the wind, don't fight it! If your skirt starts whipping around your legs, let it be.
Here are some examples of contrasting black and white dresses to give you an idea of what may work:
White elopement dress examples:
Available from BHLDN.
Available from Nordstrom.
Available from BHLDN.
Black elopement dress examples:
Available from Sweet Caroline Styles.
Available from Sweet Caroline Styles.
Available from Adina's Bridal.
How do you hike and travel with an elopement dress?
As mentioned earlier, you want to choose a dress that gives you freedom to stay balanced, take long strides, and stay comfortable throughout your hike – the same reasons why you'd normally want to hike in athletic wear. Your best bet is trying to find a way to tie up part of the skirt to get it off your ankles without the need to hold it up – try having both your hands free. In case you're wearing a backpack, ensure that there are no points on the dress that are digging into your back, shoulders, or around your hips.
More importantly, don't be afraid to get dirty. Wedding dresses can be costly, and it can feel very painful to see your gorgeous dress get mud or dirt stains on it. However, most couples like to see these marks as part of the story. Since your wedding dress will only get one day to shine, don't be afraid to wear the heck out of it. The grass, mud, and little sticks caught in the edges will most likely make you smile and think that day was amazing. Moreover, you will be surprised how effective a good dry cleaning can be.
How do you pack an elopement dress?
If you're going to a destination for your elopement, you will most likely pack your dress to bring it with you. And if you're going for a hike, you will have to pack your dress in your backpack and get it to the summit. So, how would you pack a wedding dress without getting it wrinkled?
The first thing you want to do is roll it rather than fold. If you have no structure or boning in the bodice of your dress, you can get a sturdy packing roll and start from the top-down. Fold the skirt to lay as flat as possible, ideally as the same width as your bodice. In case you're doing this for a hike, you want to put your dress in a large waterproof bag once you've rolled it. This way, if it rains or you end up traversing water during your hike, your dress will stay pristine. A waterproof bag also protects your dress from anything else in your backpack as well.
If you're flying and want your dress to lay flat in a suitcase, you can follow this method:
Hang your dress high to let you work with the whole dress and train
Take the right and left sides of your dress and fold them towards the centre. Your skirt should lay flat at about the same width as the bodice
Roll up any excess train that's longer than your garment bag. Now zip the bag carefully ensuring that you don't catch any of the fabric
Next, fold the bag a few times and have it fit your bag or suitcase
With these tips in mind, your dress should reach your elopement destination as good as new.
When do you change into a wedding dress during an elopement?
This will depend on your destination and the activities you have in mind. It will also depend on your personal comforts, whether you will be comfortable wearing a dress during your kike, or if you'd prefer being in casual wear. If you're hiking for a long way, you likely want to change into your dress at the top of your hike.
As a rule of thumb, don't get too caught up with what other people did for their photos. Your elopement adventure is not an adventure just because you hiked in a wedding dress – it's an adventure because you eloped, period!
If you choose to elope in a wedding dress, just keep in mind that it's going to get dirty.
What elopement dress makers do you recommend?
BHLDN is an online store by Anthropologie's brand that offers so much variety for adventurous couples. You can shop by fabric, style, neckline, and price. There's even a "last minute section" that's ideal for those planning to elope in a shorter time-frame. BHLDN also has dresses for any budget, which makes shopping for a dress easy.
This is a new store on the scene, but they have already seen themselves become a top choice for the adventurous wedding dress market. A good thing about them is that the founder was an eloping bride herself, who used her previous experience in the fashion industry to provide eloping brides with lightweight, flowy, and easy-to-travel-with dresses. Her dresses are handmade in the U.S. from 100% silk, and are inspired by warm summer breeze and desert landscapes.
This is an outstanding designer who totally believes in you and your ability to show off the magic inside you. Reclamation is based in Canada, and the designer handmakes each of her dresses from antique and vintage lace. You can help her design the dress of your dream or shop on her Etsy store. You can even rent out some of her dresses from her Etsy store or other vendors.
This is a brand that has been all the rage lately. They offer unique, bold, and beautiful designs, and it may be the way to go if you're looking for the perfect elopement boho dress. Their dresses are such a texture galore! Plus, they have retailers from all over the U.S. and other countries, where you can go and try out a gown before purchasing.
Sweet Caroline Styles stands out by having affordable, yet incredibly well designed, and stunning elopement dresses. If you're looking for a colourful elopement dress, or something a bit different, Sweet Caroline Styles will be perfect for you. You can even mix and match tops and skirts to create your own unique combo.
Elopement dress recommendations based on style
There are a variety of different styles of elopement dresses, and I've linked to some of these below. You can mix and match these styles, for example with a beach elopement dress, you can have something a bit shorter so it isn't so hot, but then again a long trained elopement dress could drag the sand and look incredible.
Short elopement dresses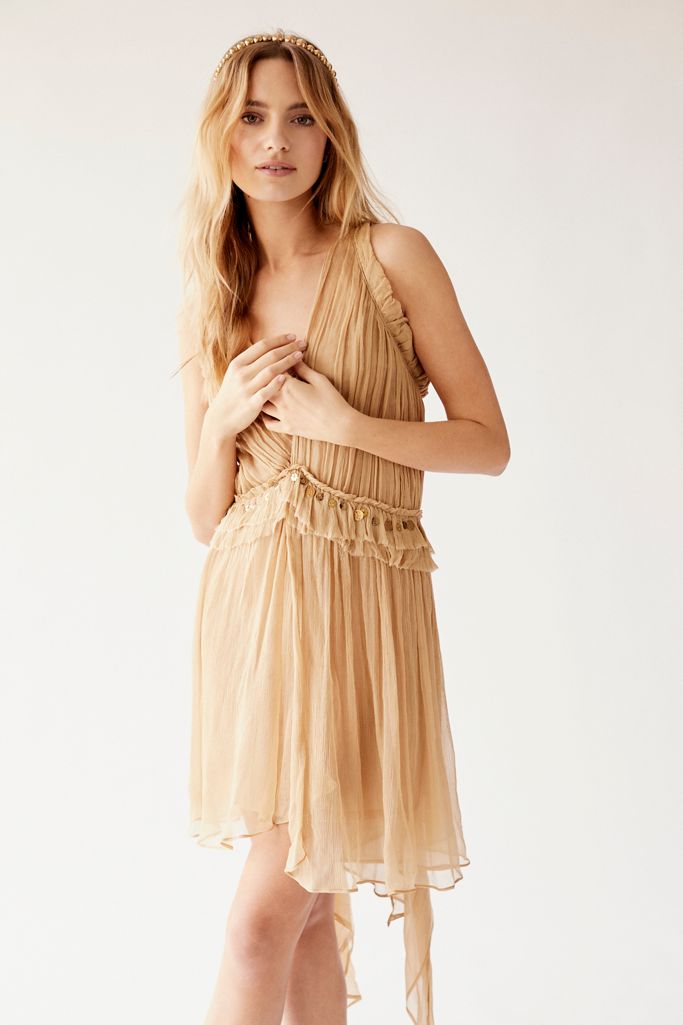 Long sleeve elopement dress
Boho elopement dress
Non traditional elopement dress
Lace elopement dress
If you've enjoyed reading about this list of elopement dresses, you may be looking to have your elopement still planned and captured. This is where I come in and can help plan and design your entire elopement for you.
Let's chat about designing your dream elopement!
[ninja_form id=4]