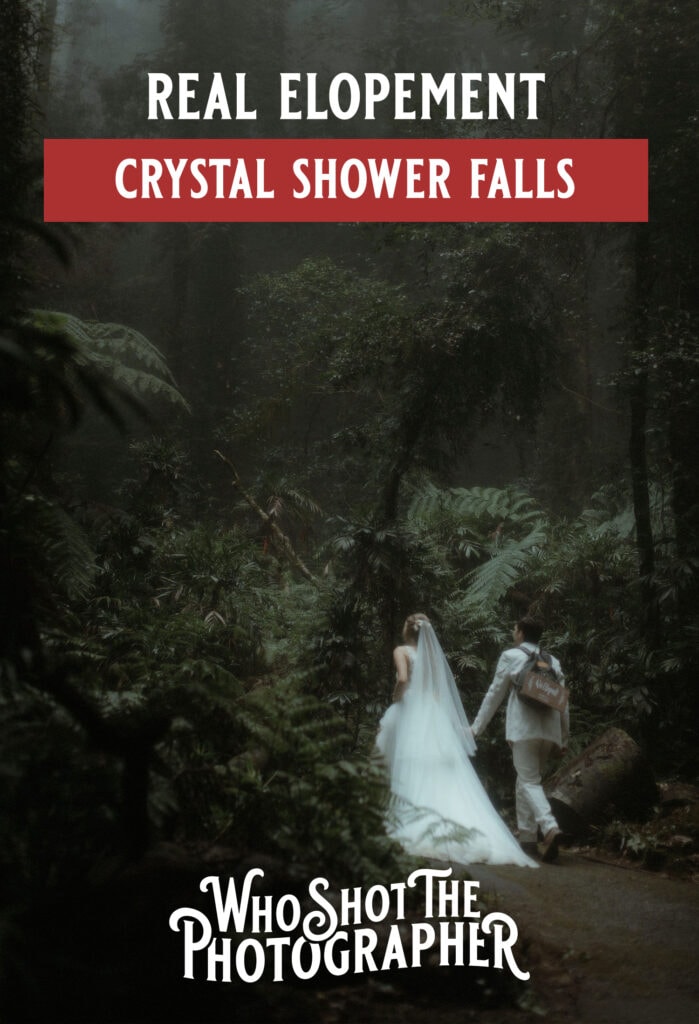 Jayde and Ty's spellbinding Crystal Shower Falls Elopement opens up another location made for couples who enjoy hiking before making the lifelong commitment to each other. If you are a nature enthusiast seeking an intimate escape with your partner, look no further.
Though the way to Crystal Shower Falls requires a bit of walking, the Dorrigo National Park will keep you company with its verdant rainforest. Located near Dorrigo Mountain, just an hour away from Coffs Harbour in New South Wales, Australia, its towering ancient trees, dense vegetation, and protected wildlife are as enchanting as they are overwhelming. It completely immerses you in nature, and because crowding is nonexistent, you get the place all to yourself.
Part of the Wonga Walk circuit, The Shower Falls walk leads you to the suspension bridge in front of Crystal Shower Falls and gives you a good view of the 35-foot-tall cascade of water with a rocky cavern behind it. From inside that cavern, the waterfalls and the overgrowth of plants make for a cool, atmospheric elopement venue perfect for adventurous couples.
What is most appealing about this elopement venue is the location itself. Going through the effort to get here to say your vows speaks for your determination and willingness to journey together and stay with each other until the end.
We owe it to the Dorrigo Rainforest Centre team managing the conservation of Dorrigo National Park, where the falls can be seen, for everything they have done to maintain this natural environment. Because of them, visitors can appreciate the park and the fall's beauty in manners that are special to each individual yet non-intrusive.
Crystal Shower Falls is a unique venue for elopements and will open you to a world far removed from your average life, making your special day twice as unforgettable. If you are thinking of having A Crystal Shower Falls elopement, Visit the NSW National Parks website to learn more information about the place and other related inquiries.