the best places to elope in australia.
The best locations to elope in Australia.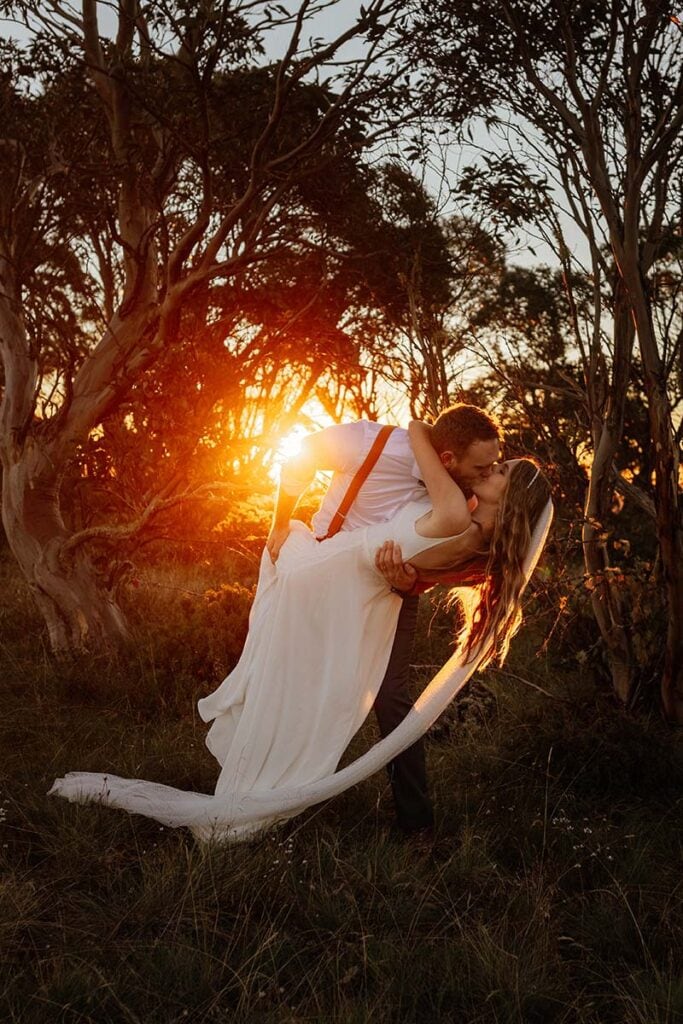 you can elope wherever you'd love.
so where do you start?
Eloping gives you the incredible freedom to start your marriage however you'd like. This is why I've created this list of the best places to elope in Australia, to help you narrow down where you want to start your marriage in style.
This means that you'll have a day:
One of the biggest questions I get asked as an elopement photographer and guide is "where should we elope?".
Whilst the one true answer is 'where makes you are your partner happiest', getting an understanding of where to start can be overwhelming.
There are tens of thousands of amazing places to elope in Australia, so where do you start?
The good news is that I've helped hundred of couples elope and find their dream location over the last 5 years, and I'm here to give you some of the best places to elope in Australia.
the best places to elope in australia;
my database.
Over the last 5 years, I've documented couples being able to get married on their terms. Without the stress and family drama of traditional weddings, and instead having an authentic experience in some of the most incredible landscapes around the world.
Australia is an incredibly popular elopement destination for so many couples around the world, and for good reason. At about 80% the size of the USA, Australia is home to a whole myriad of different locations, from red deserts to snowy mountains, and lush golden sand beaches.
There is simply something for everyone in the Australian landscape.
In this elopement location database, I'm going to give you my top picks of each state, and show you the most incredible places to elope in.
australia elopement packages.
unbundled elopement packages give you more choice.
Instead of a stuffy, rigid, and 'turn and churn' system, you deserve a day that has been crafted to your desires, dreams, and choices.
My 'Unbundled' Australia Elopement Packages instead come from having a focus on how you want your day to go, and what matters most to you. So many 'all inclusive' elopement packages come with needless extras, and rigid vendors who don't suit your story or style.
Instead you'll get an experience that suits you, and is customised to give your story and love the chance to be celebrated.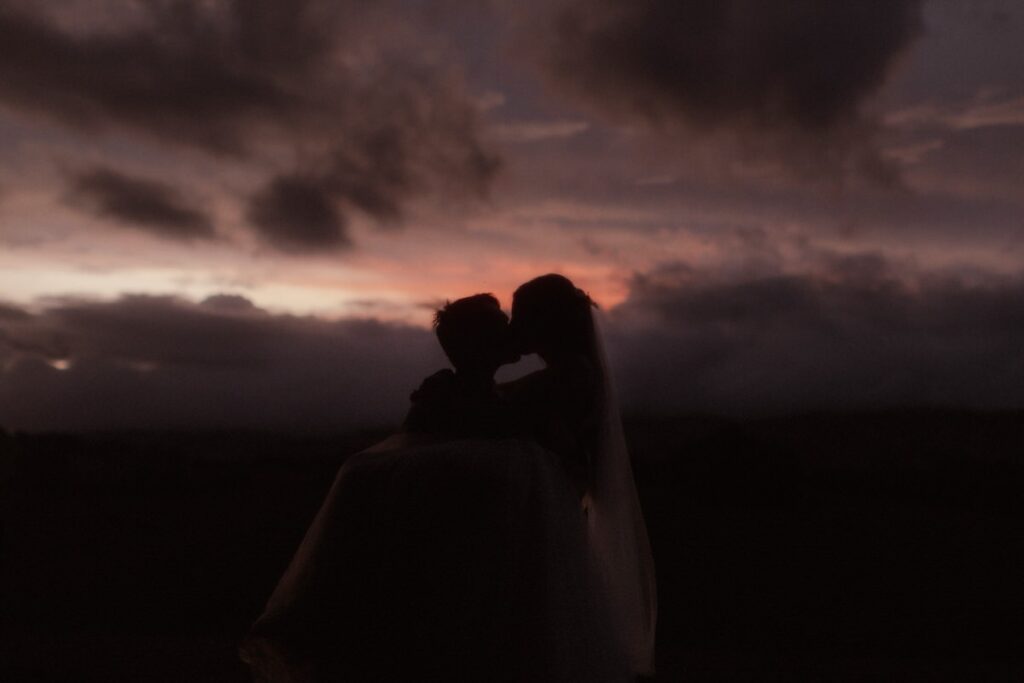 so how does it all work?
I create your perfect day with:
01.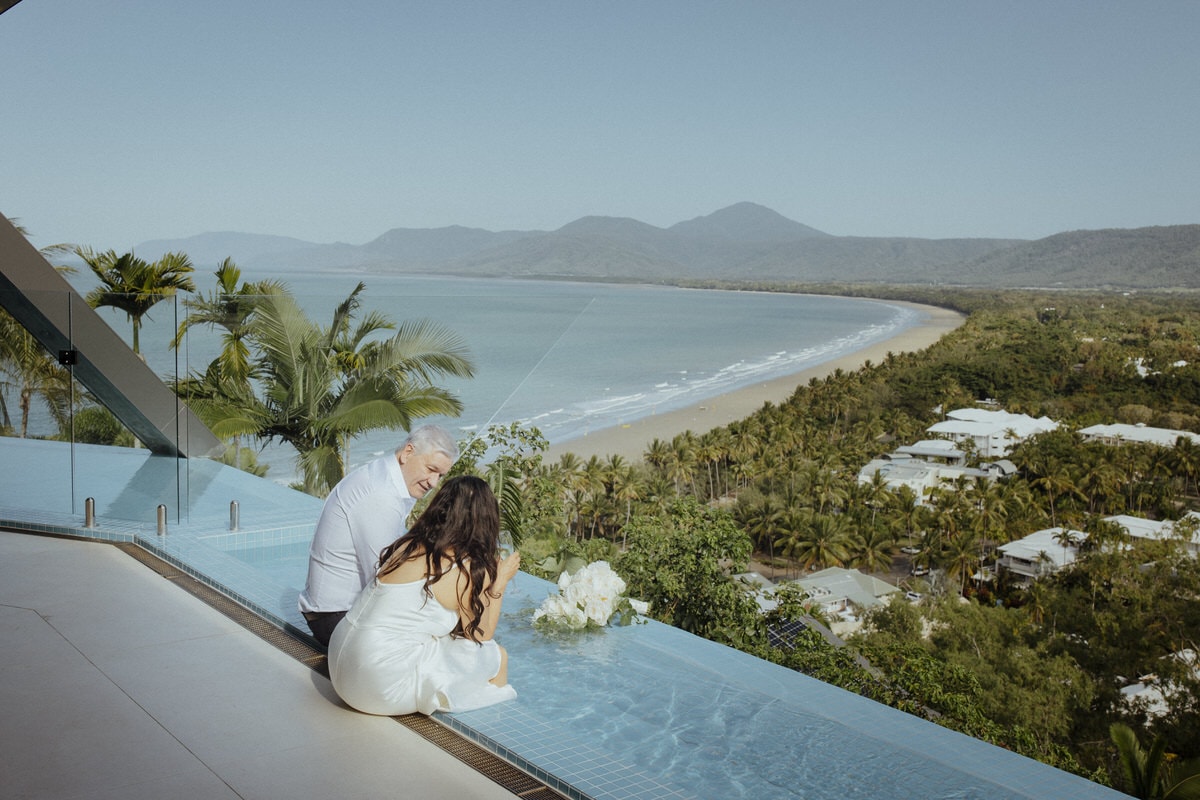 unbundled and personalised elopement packages
Having complete choice over how you start your marriage is giving you the power to have the most perfect day. My unbundled Australia elopement packages work by helping provide recommended expert vendors according to where you'd love to elope.
02.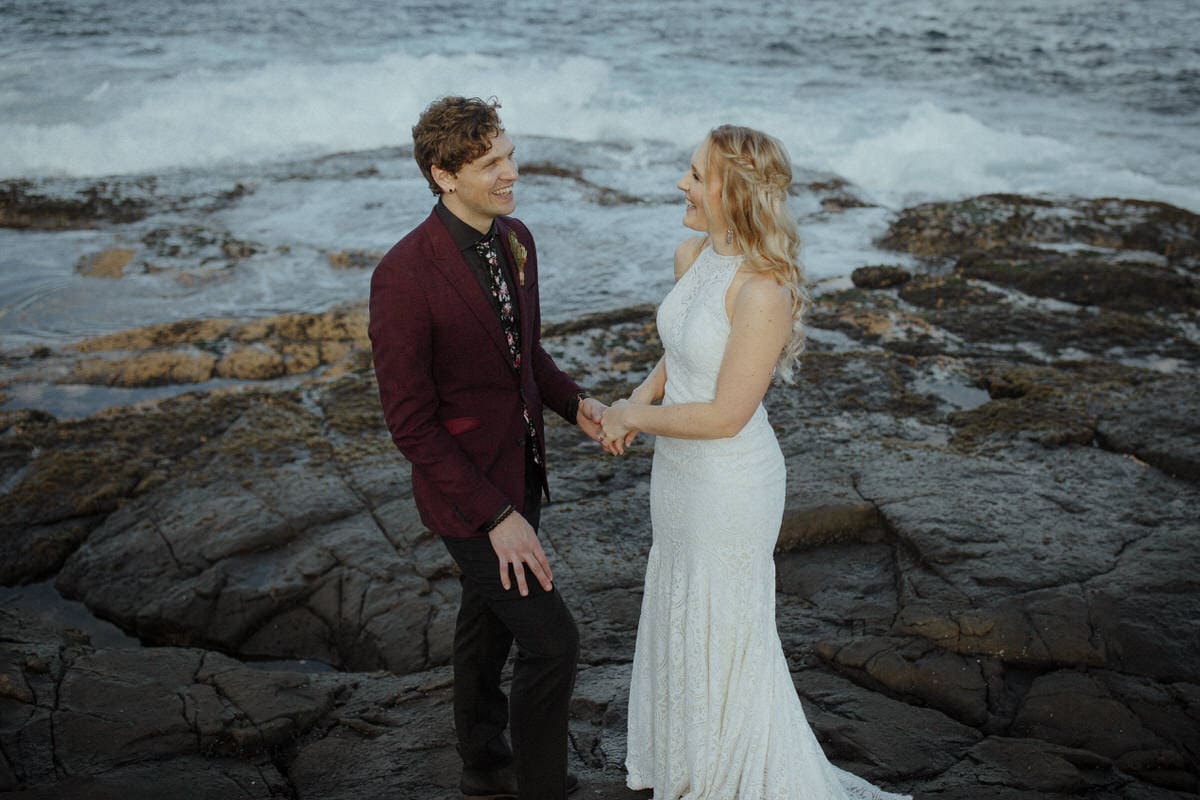 relaxed and comfortable photography
You want to look back in years to come and remember how you felt. I don't believe in forcing emotions, rather creating a fun, comfortable and welcoming space where you can be who you really are together.
03.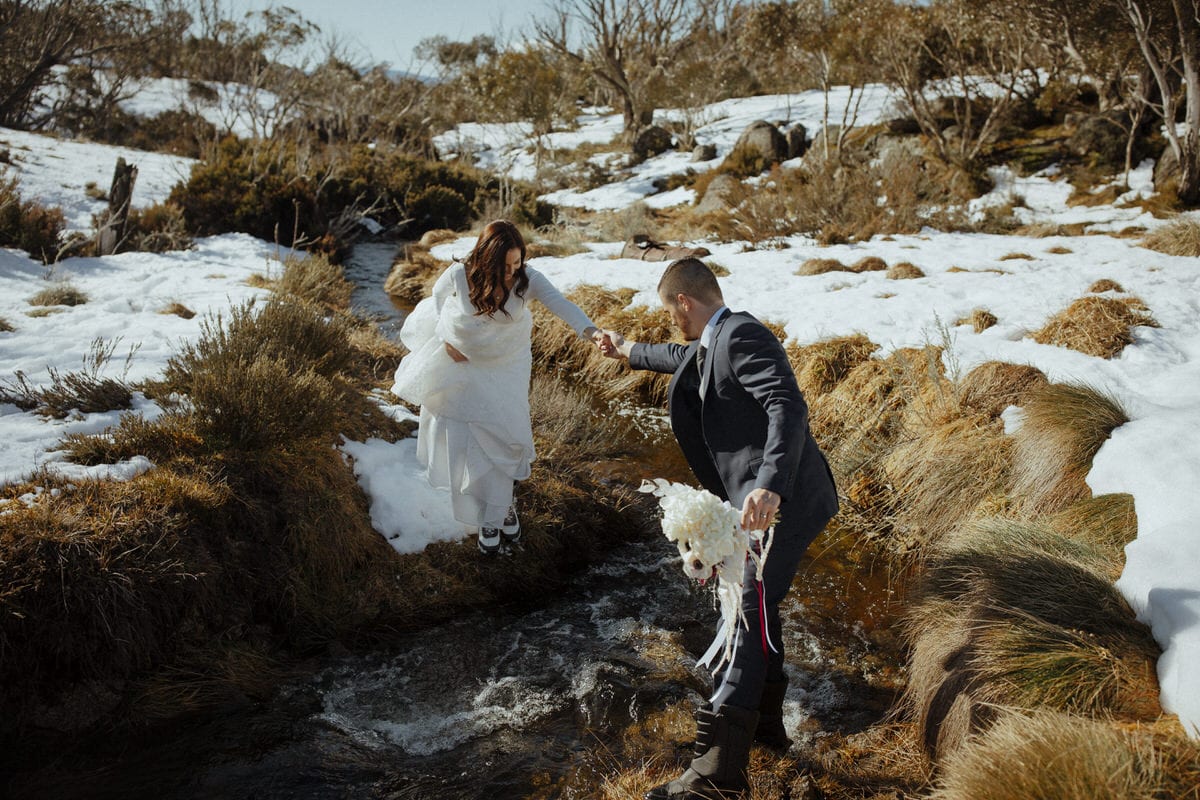 expert elopement advice and guidance
You deserve to have a day expertly crafted by a professional who will be able to design something that suits you. I have been crafting and planning Australia elopements packages for couples since 2017, and have the guidance to help you have the perfect day.
feeling like there is too much choice?
As an elopement expert, photographer and guide, part of what I do in the planning process is to really understand what specifically you'd love to have from your elopement location. Get in touch today to see how I could help you find the best places to elope in Australia for you.
how to choose the best places to elope in australia for you.
a simple guide.
Finding the place that you want to say your vows and exchange those precious words can be exciting and daunting. Sure, you can elope anywhere. But you can elope anywhere. So, how do you work out which spots may be perfect for you?
I have written out a simple guide to help you viscerally understand what may be the perfect spot for you.
01.
scenery and views
Which scenery do you envision being in, when you look into your partner's eyes and tell them how you really feel, and how much they mean to you? Do you have the sound of a waterfall in the background, noticing the swaying tropical trees above you? Or do you feel that holding hands together whilst overlooking snow laced mountains is more your thing?
How do these places make you feel? Happy? Excited? At peace? Reflect on these emotions and how these locations would make you feel.
You can also do multiple locations in a day as well! For example, you could even start your morning by waking up next to a rainforest waterfall in an AirBNB log cabin, and finish the day up at a cliff, looking over the landscape as the sun sets.
02.
seasonality
We all have preferences in the types of seasons we love, whether it is the deep winter filled with snow and ice (and warm cosy fires), or maybe even summer when you can kick back, relax and enjoy the beach life.
With eloping you can choose to elope in the season that you both love! This is especially great for couples who have a specific date in mind which is significant to them!
The great thing is that all around the world there will be different seasons at different times of the year. For example, if you're looking to elope in the Australian Winter (May – August), but love the hot weather, you can always head up to the Northern Territory for some great desert laced backdrops! This is a key part of finding the best places to elope in Australia for yourselves.
So have a think about where you would both love to b when you're getting married. What is the season like? Is there snow about? Or maybe some bright and vibrant autumn leaves? Do you have a specific date that is meaningful to you?
03.
accessibility
Whilst having an epic adventure is something so many couples enjoy, taking into account the ease of the location is also an important factor.
Maybe you're looking to make sure you get as many epic sights into a day as possible. In this case, a 3 hour hike may not be realistic when it comes to exploring all of these exciting places. Equally perhaps you are absolutely obsessed with this one lookout but it takes 5 hours to hike up there.
How easy do you want your elopement location to be to get too? Is this a problem for you? Do you prefer the idea of having a long hike, or a short walk somewhere?
Equally some remote places may need special consideration for extra transport, such as 4×4 cars. Is this something you'd enjoy as part of the journey? Or do you get a bit anxious about being in remote places?
04.
seclusion
When you're spilling your hearts out together, having that privacy enables you to truly feel present. Like you are the only ones in the world, and your words are the oxygen you can breathe in.
This is an incredibly important consideration to make when thinking about your elopement location. Whilst many lookouts are incredibly stunning, many can also be intense tourist traps. This means that you may be performing in front of many tens of eyes.
How do you feel about sharing your vows in front of other people? Would a few people be ok, or would you prefer a completely private setting?
If you really loved a popular tourist destination, would you consider having your ceremony at sunrise to beat the crowds?
If you feel like you'd rather have a more private area, then searching for locations which are hidden gems may be the key to ensuring you'll have a ceremony that gives you the privacy and intimacy you desire.
05.
meaning
Your favourite elopement spot may be somewhere you already know. With the rich story you have created together over the many years, you've forged intense and significant memories along the way, at many places no doubt.
Do you think your ideal elopement location could be somewhere that you've already been? Has there been a place that you've gone back to again and again over your relationship?
Whilst exploring exotic locations and hidden paths can be exciting and fun, sometimes those places that mean the most to you are the ones where you'd love to elope and create another special memory.
06.
experience and activities
Your elopement will be a remarkable and fun filled day. So, what else do you think you'd love to do on the day? Would you love to combine a morning swimming with dolphins, with a rainforest tour in the afternoon, followed by a sunset elopement on a mountain? Or maybe you'd love to jump in a helicopter and say your vows at the top of a snowy ridge before skiing down?
Eloping allows you to combine the start of your marriage with an adventure, and your honeymoon. Where else would you love to go when you elope at your location? Do you like the idea of eloping next to a golden sandy beach, and then renting a camper van for 5 days inland to a magical forest? Or maybe you'd love to be able to have a fun filled holiday exploring some tropical islands before eloping to the mainland on your last day, looking out to these islands?
These activities and adventures could play a key part in your day, so it is a good thing to consider them when thinking of your location.
07.
guests
Eloping gives you complete control over your day and how you'd want it to play out. Instead of big traditional weddings where hundreds of guests can be invited, you have the power to invite whom you would like.
So who do you think you would invite?
Or would you prefer for it just to be the best of you?
If you were to invite family and friends, how many do you think you would invite? Do you feel that they would be comfortable in accessing your elopement location? Whilst you may love the idea of eloping next to a mountain, elderly family members could mean that you'd have to reconsider your favourite spot.
Would you prefer to have them come along for the whole adventure, or would you just like to see them when getting ready, or for your ceremony? Whilst there may be so many of the best places to elope in Australia, finding the one which suits you and your guests may be the most important thing.
the best places to elope
in australia.
Australia is one of the best places to elope, whether from the blue mountains, or the Daintree National Rainforest, you'll be able to find something here to wow you!
I have included trails here which are rated easy to moderate, and which don't require overnight stays to get to, to keep things simple!
Australia
the best places to elope.
new south wales.
Located in the South East part of Australia, New South Wales has some of the most varied landscapes in all of Australia. An an example, you could wake up in the snowy mountains of Jindabyne, and be down the coast roughly 4 hours later, on one of the most incredible beaches around in Jervis Bay.
the blue mountains.
1 hour West of Sydney.
An iconic staple of the natural landscape in New South Wales, The Blue Mountains are home to gigantic waterfalls, wide open valleys, and lush forests as far as the eye can see.
American couples I have captured have compared it to the Grand Canyon, but with trees. It is also full of awesome adventures, such as canyoning, abseiling and nature hikes.
The Blue Mountains get their iconic name and look from the oils released into the air by the Eucalyptus plants as well!
You'll get plenty of fantastic areas for a sunset ceremony, and there are hundreds of secret spots hidden away for you to discover! The Blue Mountains are one of the best places to elope in Australia for this reason.
the snowy mountains.
4 hours South of Sydney.
You may think that snow isn't something you'd find in Australia, but the snowy mountains near Mount Kosciuszko are another popular elopement location for so many couples. You'll be able to enjoy doing a few days skiing in between your elopement, or even grab your snowboard and skiis for the afternoon after doing a morning elopement!
In the summer the whole area turns into a lush landscape of alpine foliage to explore, so if you're looking for those European vibes, the snowy mountains may be the best place for you to elope in.
jervis bay.
1 hour South of Sydney.
A coastal heaven located South of Sydney and filled with some of the most beautiful white sands found anywhere in Australia. You'll be able to find stunning coastal scrubland, beach forests, and be treated to a relaxed and laid-back atmosphere across the bay.
If you want somewhere with golden sands and a relaxed beach vibe, then Jervis Bay may be one of the best places to elope in Australia for you!
Nearby is Huskisson is also the 'world best fish and chip shop', which I can personally vouch for!
byron bay.
1 hour South of Sydney.
The Bohemian hotspot for everything alternative, Byron Bay features a whole host of gorgeous spots for you to have the intimate elopement of your dreams. Elopement locations here include the green and lush hinterlands, and the many sun-drenched beach spots around the area.
barrington tops national park.
2 hours North of Sydney.
Moody forests, epic heights and incredible views define Barrington Tops National Park as one of the great elopement locations in all of Australia. You'll come across hidden waterfalls, winding paths, and perfect glades for you both to enjoy your elopement the right way.
want more new south wales elopement locations?
I've got you covered.
I've written a whole dedicated page just to New South Wales Elopement Locations, so if you want even more inspiration, check it out!
queensland.
The top right hand of Australia is home to Queensland, the sunshine state where you'll be treated to tropical paradises, lush rainforests, and the Great Barrier Reef. If you're a couple who prefer the heat and the coast, this could be one of the best places to elope in Australia for you.
glasshouse mountains.
1 hour North of Brisbane.
These magnificent and gigantic mountains are iconic in the Queensland landscape, towering above the plains of South Queensland, and providing challenging yet rewarding sights for the adventurous couple who want to elope in a location filled with incredible scenery.
port douglas.
1 hour North of Cairns.
A paradise located along Queensland's beautiful and lively coast. Port Douglas is a small town at the heart of the coast, surrounded by the world heritage listed Daintree Rainforest, and countless golden beaches. If you're looking for an elopement location which gives you access to some of the lushest beaches and rainforests around, you have to check out Port Douglas.
blackdown tableland national park.
2.5 hours West of Rockhampton.
Hidden away waterfalls, magical turquoise pools, and beautiful forests are characteristic of the stunning Blackdown Tableland National Park. This National Park is a playground of elopement locations for any couple who want to be surrounded by forest on their day, and go for a dip on their day.
north stradbrook island.
2 hours East of Brisbane.
'Straddie Island', as it is affectionately known to many locals and Brisbanites, is a magical island away from the hustle and bustle of city life. You'll find plenty of interesting trails and beach hideaways to celebrate your elopement and honeymoon. Complete with plenty of fascinating wildlife sights, including koalas, dolphins, turtles, and even rays!
the whitsundays.
25 minutes from Proserpine.
Perhaps one of the first places that come to mind when thinking about exotic locations to elope in Queenlsand. The Whitsundays are a collection of islands covered in lush forests and white sands, which make it one of the most luxurious places to elope in.
The Whitsundays are perfect for couples who what the true 'island paradise' vibe. You'll be able to sail over to many of the beautiful islands and enjoy some of the most vibrant ocean sights in the world. Whitehaven beach is especially recommended; the sand here is so fine that they used it in the construction of the glass of the Hubble Telescope!
want more queensland elopement locations?
I've got you covered.
I've written a whole dedicated page just to New South Wales Elopement Locations, so if you want even more inspiration, check it out!
victoria.
Victoria is the place in Australia to find cool temperature locations brimming with tonnes of moody personality and incredible coastal sights and sounds. The Victorian Alps shouldn't be missed, as the main highlands across the area of Gippsland and the Grampians.
the grampians.
3 hours West of Melbourne.
The Grampians are a stunning, sprawling and mountainous area with plenty of incredible elopement locations, filled with epic views and adventurous cliffs.
The Grampains are a popular elopement location for many couples because of its proximity to Melbourne, and its unrivalled views and hikes. You'll be able to find plenty of great hikes around here, including the Balconies which gives a fantastic view out across the land.
mount hotham.
25 minutes from Hotham Airport.
Another one of Australia's incredible alpine elopement locations, Mount Hotham may be most well known for it's skiing; however it also has a set of fantastic hikes which provide excellent views across the valleys of Mount Feathertop. If you're looking to have wide open mountainous views for your elopement, Mount Hotham may be one of the best places to elope in Australia for you, especially if you want to combine a ski trip!
the great ocean road.
2.5 hours West of Melbourne.
This huge Australian National Heritage stretch of road is well known for being a campervanner's dream. You'll be able to see the iconic Twelve Apostles, a set of unique rock formations rising up out of the ocean.
Whilst this is a very popular tourist destination, there are plenty of hidden away spots for you both to take in the views and enjoy a sunset laced elopement ceremony.
wilson's prom.
3 hours East of Melbourne.
Wilsons Promontory National Park is best known for it's stunning rainforests, beaches, and wildlife. This huge 125,000 acre land mass provides some of the best coastal scene around for a couple looking to elope in Victoria.
The landmass also includes the Wilsons Promontory Lighthouse, and the Wilsons Promontory Marine National Park. These areas include mudflats, sandy beaches, and sheltered coves. There are also parts of it which have coral reefs along it too.
You'll be able to find the most Southern point of the Australian landmass at Wilsons Promontory as well, so those geography nerds of you may really love this as your elopement location!
dandenong ranges.
1 hour East of Melbourne.
If you are obsessed with ferns and mossy forests, then the Dandenong Ranges will provide all of that for you and more. Easily located just outside of Melbourne, eloping in the Dandenong Ranges is perfect for a couple who want a forest-based elopement with some style.
You'll find redwood forests, vast arboretums, and those moody roads which make for the perfect elopement location.
want more victoria elopement locations?
I've got you covered.
I've written a whole dedicated page just to Victoria Elopement Locations, so if you want even more inspiration, check it out!
tasmania.
The island just to the South of the Australian mainland, Tasmania, really is a playground for nature lovers. Containing some of the most impressive mountains in all the Australian continent, if you're looking to elope in Tasmania, you won't be disappointed. It is also small enough to get so much done in a week if you were going to rent a camper van.
cradle mountain.
4.5 hours West of Hobart.
Truly one of Tasmania's jewels in its crown, Cradle Mountain is an adventurers dream. As the start or end of the wildly acclaimed overland track, Cradle Mountain provides a whole host of different and incredible elopement locations.
For example, you could look at having an afternoon ceremony by the lake, and then head up to the top of the mountain for some cracking sunset photos.
Be prepared for a good hike up to the top but I can personally vouch that it is well worth the hike, and is one of the best places to elope in Australia.
bay of fires.
4 hours North of Hobart.
Renown for the bright red and crimson coastal rocks which dot the beaches along this area, if you're a big fan of intense colour and coastal scenery, this is your place. Located up the East coast of Tasmania, the bay of fires provides plenty of unique outlooks and elopement locations.
mount wellington (kunanyi).
30 minutes from Hobart.
There are few elopement locations which get you as high with as many incredible views as Mount Wellington. To get to the top and see some of the most awesome views of Hobart and beyond, simply drive up to the top, and you'll be greeting by a car park, and plenty of space to find your perfect elopement location. Whilst there are some common tourist traps up here, your elopement photographer will be able to easily find a spot which gives you the privacy you'd want.
wineglass bay.
3 hours North of Hobart.
If you've been looking up anything to do with Tasmania, chances are you've come across the iconic and distinctive image of Wineglass Bay. This stunning bay is a few hours north of Hobart and is home to white sparkling sands, beautiful vegetation, and brilliant lookouts.
To get to the lookout top you'll want to hike for about an hour and you'll be able to reach the Wineglass Bay Lookout, providing vistas all around. Unbeatable at sunset.
cape raoul.
2 hours East of Hobart.
Based near Port Arthur, Cape Raoul is a fantastic collection of coastal walks which provide incredible views out to the Tasman Sea. Along these hikes, you'll come across basalt columns, beautiful wildlife, and plenty of places for you to have your ideal elopement location.
canberra.
Officially Australia's capital, Canberra is a humble city located midway between Sydney and Melbourne. In the last decade or so it has grown immensely, both in culture and in space. Canberra is one of the most frequently underrated parts of Australia when it comes to eloping, with the Namadgi National Park providing some of the very best elopement locations around.
yankee hat walking trail.
1 hour South of Canberra.
You could easily be stepping back in time when arriving at Yankee Hat Walking Trail. Set in the vast landscapes of the Namadgi National Park, this epic and open area contains a myriad of beautiful scattered trees, massive mobs of kangaroos, and gigantic hills in the background.
If you want an elopement location which is incredibly private, surrounded by nature, and kangaroos, Yankee Hat Walking Trail is one to look out for.
booroomba rocks.
1 hour South of Canberra.
This fantastic hike will take you to the top of a rocky outcrop called Booroomba Rocks, providing excellent views out towards the Namadgi National Park and Canberra.
Once you get to the top of the walk after a roughly 30 minute uphill hike, you'll see some of the very best views in the Canberra region, and have plenty of space to find an elopement ceremony location which suits you. Not for the feint of heart, but those who do climb to the top will be greatly rewarded.
cooleman ridge.
30 minutes from central Canberra.
Canberra's greatest strength is the sheer volume of incredible green space and natural parks which are scattered throughout it.
One of the best is that of Cooleman Ridge Nature Reserve. This gigantic walk goes around the South West of Canberra and provides some of the best views out to the Brindabella Mountains. It is easy to access and the sunsets here are absolutely unbeatable.
This unassuming and underrated jewel is one of the best places to elope in Australia, especially if you live in Canberra!
mount franklin.
1 hour West of Canberra.
Buried in the Namadgi National Park is a hike unlike any other in the Canberra region. Mount Franklin is a great hike for couples who love a real adventure and want to go off the beaten path to say their vows. This brilliant hike actually used to be an old ski field; you can still see the abandoned ski field machinery left up there!
You'll have to make sure you have an AWD or 4WD vehicle for this trip, but after the 30-minute hike from the car park, you'll get wide open mountain views as far as you can see. One of Canberra's most underrated hikes.
tidbinbilla nature reserve.
1 hour West of Canberra.
This magical nature reserve is a playground for different locations and scenery. Tidbinbilla is a popular elopement location for many couples in Canberra due to the different environments you can enjoy in one day, or even one afternoon.
From the dense and sacred rocks of Hanging Rock, all the way up to the epic views of Gibraltar Peak, Tidbinbilla Nature Reserve has something for ever couple. The Rock Valley Homestead especially provides a welcome base in case the weather turns a bit sour as well!
south australia.
South Australia has an arid landscape, with a gorgeous mix of flora and fauna, and some beautiful coastal elopement locations. South Australia is the perfect elopement destination if you're looking for somewhere with arid desert, and a whole heap of incredible coastal locations.
admirals arch.
4.75 hours South of Adelaide.
This fantastic walk will take you across the coast, along rocky outcrops lined with coastal fauna and flora, and plenty of beautiful lookouts to the ocean.
Of particular note is the brilliant cave which provides an excellent place for you to have your elopement ceremony.
mount greenly summit.
45 minutes from Port Lincoln.
Providing unparalleled views in the local area, Mount Greenly Summit is a ridgeline which extends for about 4km, and is an excellent elopement location if you're looking for somewhere with character and epic scenery.
Looking out to the Eyre Peninsula, Mount Greenly Summit is one of the best places to elope if you want a good adventure and plenty of coastal scenery as a backdrop.
lake bumbunga (pink lake).
2 hours South of Adelaide.
I'd be a fool if I didn't include the infamous pink salt lake in this list. Completely remarkable and uniquely interesting, Lake Bumbunga is located south of Adelaide and is the perfect elopement location if you want something special as your backdrop.
This special lake gets its colour from algae that produce carotenoids, which, when given the right amount of salinity, temperature and light, accumulate beta-carotene responsible for the red pigment. However, don't think about swimming in it!
If you're looking for something wildly Instagrammable for your elopement, the Lake Bumbunga may be one of the best places to elope in Australia for you.
bridle gap via black gap.
2 hours North of Port Augusta.
You'd be forgiven for believing that you'd have been transported to some parts of Utah in America; this brilliant little trail in the Flinders Region provides excellent views, and wide open spaces for your elopement location.
Beginning at the Black Gao Car Park, you'll go across the Heysen Trail and have excellent spots to explore and say your vows to each other.
arkaroo rock walk.
2 hours North of Port Augusta.
Another excellent elopement location in the Flinders Ranges, the Arkaroo Rock Walk is an important Aboriginal art site and one which contains ochre and charcoal images. You'll get to see some of the most brilliant views out to the Flinders Range from here on this walk, and enjoy the sights and sounds of the Flinders Range, perfect for couples who want incredibly rocky outcrops as the landscape for their elopement.
waterfall gully trail.
30 minutes from Adelaide.
This beautiful and serene waterfall can be easily accessed from the Morialta Falls car park and takes you on a short walk, with a big pay-off at the end. This lovely lookout is the perfect spot for an elopement ceremony, and you'll even be able to see wildlife along the way, from koalas, and to echidnas and kangaroos!
This is the perfect place to elope if you're looking for a gorgeous waterfall backdrop, and something easy to each!
west australia.
As one of the largest jurisdictions in all of Australia, West Australia contains a vibrant array of sandy red deserts, and vibrant lush river land. If you're the sort of couple who love venturing out to the middle of nowhere, and exploring the vast unknown, West Australia would be the perfect elopement location for you.
bells gorge waterfall.
4 hours North of Fitzroy Crossing.
Taking a dip in this big, beautiful waterfall is the perfect part of any elopement day. This elopement location, right in the Wunaamin Miliwundi Ranges Conservation Park, required a 4WD vehicle to get access to it, but this short hike is perfect for couples who want to have an elopement location where they can cool off in the water, and then have an awesome sunset ceremony with the Kimberley's ranges in the background.
pinnacles outlook track.
2 hours North of Perth.
This gentle trail takes you through a remarkable landscape of thousands of weathered limestone pillars. These pinnacles of can reach up to 3.5m high, and are surrounded with a vibrant yellow sand base.
If you're wanting to elope in a location which has a uniquely alien feel to it, then the Pinnacles shouldn't be ignore for your ideal elopement location!
el questro gorge trail.
1 hour South of Wyndham.
Hidden away in the harsh desert surroundings is a stunning paradise, which will cool you off and provide a uniquely amazing elopement location.
You'll go through palm tree laden landscapes, leaving into the gorge itself, where you'll find a literal oasis, filled with turquoise water and some of the most beautiful scenes you'll find in the desert.
If you're want to elope in West Australia, this is a place not to miss out!
mushroom rock nature trail.
20 minutes from Kalbarri.
This unique coastal zone contains some remarkable rock formations, which gives it the name of Mushroom Rock. These layered red and orange rocks provide a beautiful backdrop for the perfect elopement location in West Australia.
As part of the Kalbarri National Park, you'll go along the walk, through a wild landscape of sandstone rocks, red dirty, and plenty of steps leading down to the coastline.
nature's window.
2 hours North of Geraldton.
Another unique rock formation that West Australia is lucky to have, Nature's Window clearly has gotten its name from its stunning shape and the outlook onto the river below. This tranquil trail is easy to access and does have a bit of a climb, but the reward is worth it.
This can be a popular tourist trap but if you are wanting to have this as your ceremony spot, I highly reocmmend checking it out at sunrise! However at sunset, you'll still have an incredible time!
northern territory.
Half red desert, half tropical climate, the Northern Territory is home to similar landscapes found in the top parts of West Australia, with incredible desert vistas, and unique rock formations. Another fantastic set of elopement locations for couples who love to go off road and explore the unknown. You'll come across hidden oases, huge rock formations, and lush lakes.
kubara pools.
3 hours East of Darwin.
Looking for a beautiful oasis on your elopement to cool off with? The Kubara Pools may be just the spot for you. Located a few hours from Darwin, these pools are easily accessed after venturing through stunning woodlands, and provide the perfect escape from the heat, especially in the wet season.
You'll get to see lizards, deep red cliffs, and plenty of interesting flowers, making it a fantastic adventure for any couple who wants to elope into the wild.
mushroom rock walk.
1.5 hours North of Alice Springs.
This short and easy walk provides an unreal 'mad max' experience for any couples who want to elope in a location with a central huge red rock as the backdrop.
Loctaed in the stunning Rainbow Valley Conservation Area, Mushroom Rock is a gigantic sandstone rock formation which provides an excellent spot for you both to explore, or to say your vows and start your marriage together!
Bring the fly spray though, they can get quite active here!
ormiston gorge.
1.5 hours West of Alice Springs.
For a varied adventure elopement through full gorges, red rocks, and various ghost gums, then Ormiston Gorge isn't an elopement location to miss.
When walking along this route, you'll head down some stairs and go through the waterhole walk, allowing yourselves to have a nice dip on a hot day, before heading onwards to discover the beautiful ghost gums.
If you're looking for an all-in-one elopement location which has the perfect spots for your ceremony, and a great walk, then Ormiston Gorge may be perfect for you!
simpsons gap waterhole.
20 minutes from Alice Springs.
The MacDonnell Ranges are just a stones throw from Alice Springs but contain a wealth of great walks to enjoy. One of these isthe Simpsons Gap Waterhole.
This waterhole has significant spiritual importance to the Aranda Aboriginal people, and is a landscape filled with incredible red rocks, bright green vegetation, and plenty of wildlife as well, such as black-footed wallabies.
A short walk with plenty of spots for you to have your ceremony and adventure, this is one of the best places to elope right by Alice Springs.
southern lost city walk.
8 hours South of Katherine.
One for the campervanners and adventurers, the Southern Lost City is quite a remote location, but one with unique rock formations which you won't find anywhere else.
Situated on the Gulf of Carpentaria, this trail begins from the camping ground and will take you through some beautiful rock formations and landscapes filled with red rock and green vegetation.
This elopement location is perfect for you if you love the idea of a camping elopement.
ready to begin
planning your
perfect elopement?
You've seen plenty of awesome elopement locations here. I thoroughly understand that it can be overwhelming when it comes to choosing the perfect place in nature to share your vows and to start your marriage off with the most awesome time ever.
I'm here to help you narrow down the most perfect elopement location for you, taking all the stress out of worrying about which place may be perfect for you.
I believe in supporting you throughout your journey to being married, and beyond. Elopements take the stress and hassle out of the adventure of getting married, and I hope that throughout this post you've been inspired by some beautiful places to elope in Australia.
However, if you'd love to elope, reach out, as I'd love to help you have the perfect elopement.